Attack of the Giant Robots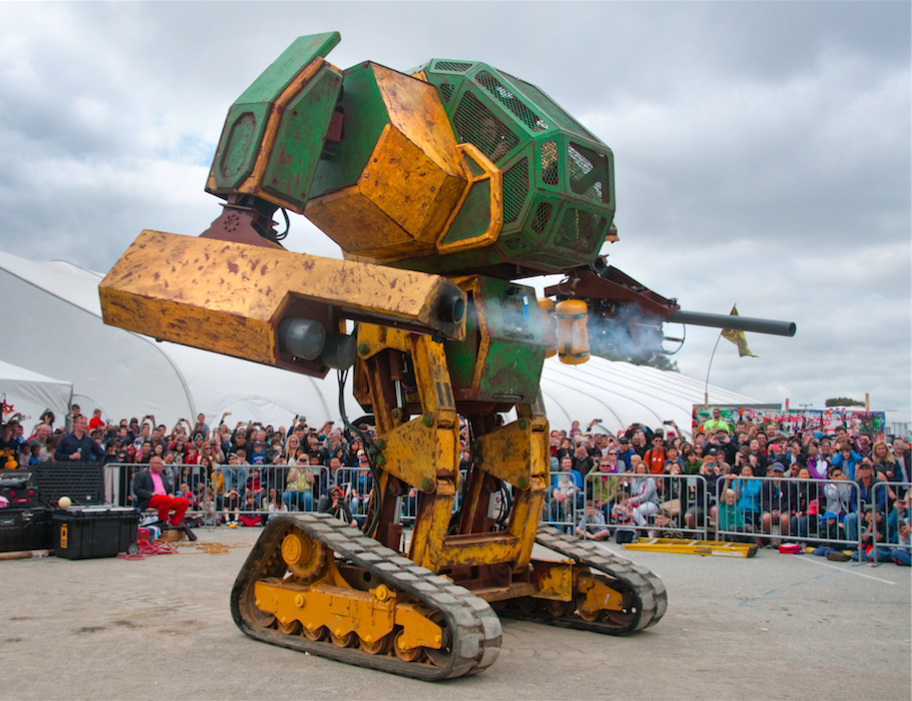 With seed capital of $2.4 million, the company is pledging to build a league of gigantic fighting robots.
According to MegaBots cofounders, Gui Cavalcanti, Matt Oehrlein, and Brinkley Warren, the startup aspires to follow in the footsteps of major sports associations like Formula 1 or UFC.  With the seed funding, Warren said, MegaBots will be partnering with a law firm called Latham Watkins to help set up and roll out its league internationally, taking an approach similar to the Olympics.
In particular, MegaBots will work with Latham Watkins Partner Christopher D. Brearton, who has helped sort out associations and overseeing bodies in games including the NBA, MLB, NFL and others.
To build some hype and promote the future sport, MegaBots challenged Japan-based Suidobashi Heavy Industries to a duel.
The Japanese organization, which existed before MegaBots was established in 2014, acknowledged the more youthful startup's challenge, and are allegedly chipping away at a unique version of their Kuratas robot for the duel.   Kuratas measures more than 9,000 pounds. MegaBots' MkII times in at 12,000 pounds. The fight prepared robot will measure more like 15,000 pounds, Warren said. Early forms of the MkII can likewise fling 3-pound paintballs at different robots, possibly blinding their PC vision frameworks.
Group USA and Team Japan will go head to head at a date and venue that MegaBots has yet to decide. At Suidobashi's request, MegaBots will compose the duel.  MegaBots is assessing potential host nations and working with governments that might be keen on and willing to host such an occasion, and future competitions.
A game like this will unavoidably include complex global logistics, Warren says, as one can't just ship a 15,000 pound robot crosswise over worldwide.  Already, MegaBots brought $550,000 up in a crowdfunding effort, and have likewise sold stock and sponsorships to maintain their business as such. The organization has created over $1 million in income from live appearances and stock deals.
Financial specialists in the organization's seed round have so far included Azure Capital Partners, AME Cloud Ventures, Autodesk, Maveron, and blessed messenger speculator Ray Rothrock, previous executive of the National Venture Capital Association.
Azure Capital Partners General Partner Michael Kwatinetz said he backed MegaBots, in part, because "There is a giant opportunity for live events that stimulate people's interest. That much is obvious from examples like the WWE or Nascar."
He additionally brought up that, with a couple of prominent exemptions, most organizations don't have the designing ability to create robots like this.  Ordinarily, mechanical autonomy engineers train to assemble battery fueled robots, not water powered ones. Furthermore, electrical robots don't have the ability to convey individuals, or move around exoskeletons that measure many pounds.
The financial specialist anticipates that MegaBots will utilize the seed subsidizing to assemble their robot for the battle against the Japanese group they've tested; and to secure sponsorships, maybe even a TV contract for a system that tracks the group from building the robots to going up against Suidobashi, something like the MMA's Ultimate Warrior.
Get ready to rumble!   MegaBots are on their way to a venue near you.
Curated from MegaBots raises $2.4 million to create league of human-piloted, giant fighting robots | TechCrunch